The time has come: Our next Evergreen release for August is ready for you!
What have you done for your digital fitness today? For instance, are you familiar with Cameo in PowerPoint Live? Or how to manage the disabled Wiki tab in Teams? Or did you know that the FindTime app has a brand new name? With soluzione42 you'll find the answer at the touch of a button.
We also have the latest news from our developers: soluzione42 has some nice features in store for you! Discover them below.
For a detailed view of all soluzione42 learning modules in the available languages – divided into Microsoft and non-Microsoft portfolios – click here.
News from the Cyber Security Awareness training series (non-Microsoft): Password security and IT security in the office
In addition to our existing custom phishing simulation service and our phishing and home office security courses, we are now adding office security and password security to our offerings.
Ever heard of brute force attacks or credential stuffing? No? You can change that with our new Password Security & MFA course. You will also learn everything there is to know about IT security from the user's point of view, especially in the workplace.
Watch one of our videos to learn how to detect acute threats on your device (currently only available in German).
Curious? Go on a journey of discovery into the world of soluzione42 Cyber Security Awareness and let us tell you everything you need to know about this topic on our specially created information page (only in German available):
Or you can learn more about our Cyber Security Awareness offerings in a one-on-one meeting. Our sales team is always available at sales@soluzione.de.
You'll be amazed at how easy it can be to get your employees up to speed on IT security issues and reduce cybercrime.
Technical upgrade for soluzione42
soluzione42 makes learning easy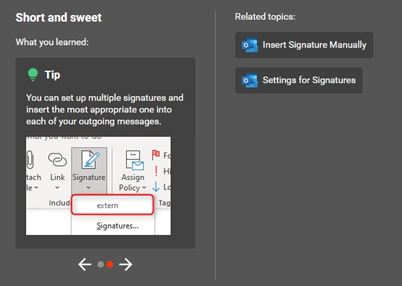 Learning opportunities should be tailored to your needs and easily accessible. soluzione42 is your specialist for this and creates added value with this innovation: The new end slide for learning films and quick references proposes further recommendations that fit your topic. For relevant topics, you can even get the best tips in summary form.
Take a look and see for yourself.
Advanced accessibility in soluzione42 Web
Not only do we have a comprehensive course on accessibility in the digital workplace, but your digital learning assistant soluzione42 Web also supports you with accessibility. For example, our web interface can be controlled directly from your keyboard, or alternative text displays can be used for controls.
soluzione42 optimizes responsive design & learning for smartphones
With the full implementation of responsive design in soluzione42, controls, layout and navigation adapt to the current interface (desktop or mobile) – no more cut off text or missing buttons. For great usability everywhere. In addition, it is now possible to use the touch interface in soluzione42 Web on mobile devices such as smartphones.
Other features available by the current release:
Simplified navigation: Breadcrumb in soluzione42 Web
Further development of the SCORM export format: Favorites, accessibility, search and offline version
Learning Pathways Package Generator
New course: Microsoft Bookings is here
We now have the Microsoft Bookings App course in our catalog! Simplify your booking processes: From customer appointments to employee training to event reservations, Microsoft Bookings makes it easy to get organized. Bookings integrates with your personal Microsoft 365 calendar, so you can quickly find available appointments. Bookings saves you time in scheduling!
In 28 new learning units, we take you step-by-step through how to use this app.
Our Microsoft 365 HIGHLIGHTS
Microsoft Teams will once again offer exciting opportunities to improve collaboration and self-organization. These are our current Top 3:
Outlook is (still) indispensable in the Modern Workplace. In the future, Outlook Online and Outlook Desktop will become more similar as Microsoft continues to provide a unified email client for all systems.
For example, the module bar with email, calendar, etc. is now located in the upper left corner of Outlook 365 instead of at the bottom. Stay up to date with soluzione42 and look forward to the updated Outlook 365 course.
FindTime is now scheduling polls
You may have noticed that the popular FindTime scheduling add-in for meetings is now called Scheduling Polls in Outlook. In addition, FindTime is no longer a separate application, but integrated into Outlook as a feature. Use the "Respond with scheduling poll" button.
Other UPDATES: OneDrive Online, OneNote Desktop App and Windows 11 and 10
Interested in our new release?
An overview of what's new in existing courses
All learning contents at-a-glance
For an overview of all soluzione42 learning units in all available languages, please open the list. You'll also find the additional non-Microsoft training series here.
Is there a topic missing?
Click on this anonymous poll (Microsoft Forms survey) and post the topics that are relevant to you.
Do you have any further questions, requests or suggestions? You can reach us at any time.
Just contact us directly at:
Customer Success Management / soluzione Script GmbH
Email: service@soluzione.de
Archive of previous update infos
soluzione42 News Release 2.5.6.0 The time has come: Our May release is here! This time we'll focus on the most important content updates for Teams and Windows 11. We'll also dive deeper into the world of cybersecurity. In addition to more awareness training, we now also offer a brand new
soluzione42 News Release 2.5.4.0 It's time—our February release is ready for you! It's packed with the most important updates and features for your modern workplace—but that's not all. We've got a brand new, important topic for you: did you know that 50% of companies experienced a cyber-attack in 2022?* Unfortunately,
soluzione42 News Release 2.5.2.0 The time has come: Our August release is ready! In the last release, we debuted our new soluzione42 Web look&feel. This time, we've got a wide range of new courses for you, and we've updated our existing content library. Highlights include the new Windows 11 and